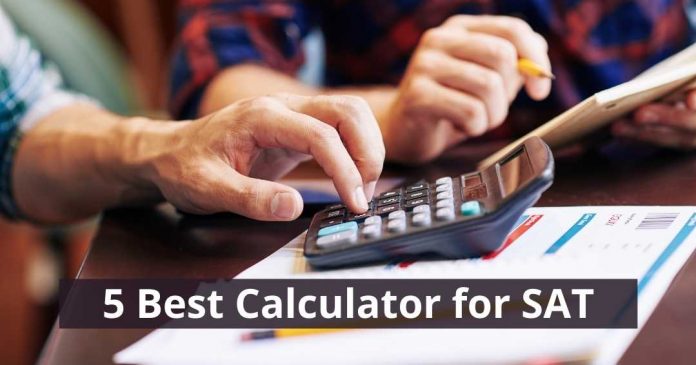 If there is a single thing which everyone can agree upon, it is that SAT is stressful! Although you have done whatever you can to prepare yourself, the pre-exam anxiety is real. Without a doubt, the SAT is a difficult test, and the math component is no exception. Taking the exam without the appropriate calculator can be nerve-wracking. You don't want to show up at the exam without the best calculator for SAT.
There is, however, one issue. The market is saturated with SAT calculators. Finding the right one that meets your needs without spending a fortune might be a difficult call. To complicate things further, not every calculator in the market meets the requirements of SAT.
With all of the requirements and options, making a simple calculator purchase becomes a challenge. But you don't need to worry because this is where we step into your rescue.
We have put together a list of the top SAT calculators to help answer your problems. These recommendations are a combination of teacher's and student's selection and testimonials. Make your decision for purchasing the best calculator for SAT-based on your needs as well as budget.
Buyer's Guide for Best Calculator for SAT
Before stepping into the market, be aware that you cannot simply buy a calculator for SAT. The College Board has curated and administers a list of authorized and unauthorized calculators for SAT and other standardized tests to appear in the actual test.
The SAT comprises two mathematical sections. While students are not allowed to use a calculator for the first section, they are permitted to use a calculator for the second section.
The College Board only allows portable battery-operated calculators. In general, SAT approved calculators include:
Majority of graphing calculators
Almost all scientific calculators
Four-function calculators are allowed but not recommended
Related Post: 6 Best Graphing Calculator in 2021
Similarly, the College Board prohibits the use of a few calculators. These include calculators with a computer keyboard or stylus, laptops, tablets, cellphones, smartwatches, and other similar devices that are not at all allowed in the test hall.
Keeping all this in view, here are a few features you need to keep in mind before searching for a calculator to use for your SAT.
Requirement
An SAT-approved calculator needs to be your top priority requirement while choosing a calculator. There are a bundle of options available, but buying the calculator will be rendered useless if they are not approved by the College Board.
Battery life
SAT being stressful already, you wouldn't want to add up to that stress by using a calculator with short battery life. Imagine working on your test and the battery dies out.
You'll freak out! Hence look for a calculator with a good battery life that can work for weeks on a single charge. Or choose one whose batteries do not need to be replaced frequently.
Display
It is said "seeing is believing." If you won't be able to clearly see the display, you'll have to squint your eyes, making you more anxious. Make sure to go for a high-resolution, high pixelated display calculator.
Price
With different models come different processes. SAT-approved calculators range from high-end models to affordable ones. Usually the higher the price, the more advanced the features. But that is not always true. Even affordable models work wonders like those by Casio. There is always a model available to full fill your needs and budget.
Speed
When appearing for SAT, time flies. Choose a calculator that will save you from worrying about time by displaying answers swiftly with one click.
Reviews on the Best Calculators for SAT
Worried about which calculator to opt for your SAT? Well, leave this on us and focus on studying hard. We have compiled a list for you to find the best calculator for SAT 2021.
The TI-84 Plus CE graphing calculator has shown to be a reliable performer in the market. It has long been trusted and frequently used by SAT students worldwide. Without a doubt, it has demonstrated its worth. It allows students to readily perform statistical and algebraic calculations.
Its comprehensive features will allow you to not solve calculations but work with graphs as well. Rightfully being on the top, it is an all-in-one, easy-to-use calculator. The advanced function keys will allow you to perform even the most complex problems in the nick of seconds.
Related Post: 5 Best Graphing Calculator for Engineers
Key Features
TI-84 plus comes with a high-resolution screen.
It is very convenient to use.
The battery is rechargeable.
It comes with preloaded apps and images that add to its functionality.
Gridlines can be added to graphs to make them easier to comprehend.
The second on the list of best calculators for SAT is TI-89 Titanium graphing calculator. CAS functionality is one of the game-changing capabilities possessed by this calculator. This is a unique function that makes solving multiple equations and limits functions easier. This will allow you to save a significant amount of time on the test.
TI-89 Titanium is loaded with various advanced features that include solving limits, stats, and graphs easily. Another standout feature is that the function menu is displayed in a logical pattern. Being an SAT student will help you save time during your test.
Overall, this is a great choice for a calculator when it comes to SAT. It is something worth considering if you want a quick yet long working calculator.
Key Features
It has an inbuilt 2.7 MB ROM and 188 KB RAM.
Very convenient to use due to the icon desktop.
The USB port allows for it to be connected to a computer.
Advanced mathematics software adds to the functionality.
Can TI-Nspire CX CAS be used on the SAT? Most definitely, yes. Like other calculators on the list, it comprises all the features that you will require to ace your SAT. This calculator has more than just a pretty body. It is hard-wearing yet easy to use. Moreover, it has advanced features.
Because it is rechargeable, this SAT calculator is one of the very few on the market that does not require a battery replacement now and then. Furthermore, the battery life is outstanding. The calculator can work for two weeks on a single charge.
Unlike other calculators available, this one has a unique color display. This will allow you to use it even in the dark. CAS functionality further adds to the uniqueness of this calculator. This means that solving mathematical expressions becomes easier than ever.
Key Features
TI-Nspire CX CAS comes in a full-color screen.
Comprises of a built-in Computer Algebra System (CAS).
Comes with 11 interactive zoom features.
Contains a built-in long-life rechargeable battery.
Hands down Casio fx-9750GII is one of the finest calculators for SAT on the market. For decades, Casio has been a top calculator brand in the market. Casio fx-95750GII has continued the legacy.
What makes this model stand out is that it is the best cheap calculator for SAT. For a minimal price, you can purchase a go-to calculator that solves all mathematical problems on the SAT question paper.
To make navigation simpler, it has an LCD and an icon-based interface. This calculator generates and analyzes graphs rather quickly. This is a very beneficial feature when it comes to giving the SAT under a time constraint environment.
Unlike other graphing calculators, the graphing function is also simple to use. Moreover, the table application also executes without a hitch. Conclusively speaking, Casio fx-950GII is an affordable entry-level SAT-approved calculator.
Key Features
Consists of a large display with an icon-based menu.
Solves several mathematical problems such as inequalities, graphical analysis, and intersections among many others.
Comes with a high-speed CPU enabling immediate solutions to complex calculations.
Last but not the least, we have Casio Prizm FX-CG50. Another Casio calculator making its place in the crowded market. The Casio PRIZM FX-CG50 has graphing as well as many other advanced features. This calculator can help you with advanced algebra, calculus, and much more in school as well as on SAT.
The best part about this Casio calculator is that many of its applications can be self-taught. This is a plus point considering how hard other calculators may be to understand and operate. The interface of this calculator is simple and easy to operate.
The colored menu makes it quicker to notice the applications that need to be used. The expressions and numbers are printed on the calculator as they appear in the textbooks. Furthermore, displaying colored graphs in 3D is a standout feature of Casio PRIZM FX-CG50.
Key Features
Casio PRIZM FX-CG50 graphing calculator has a high-resolution color display.
It is capable of graphing 3D shapes.
It comes with a PC connection cable for external connectivity.
FAQs Related to Topic
Is a calculator a necessity to appear for SAT?
All math problems can be solved without a calculator if tried wholeheartedly. The same holds for mathematical questions on SAT. However, usually, math problems can be solved without a calculator if tried wholeheartedly.
The same holds for mathematical questions on SAT. However, using your best calculator for SAT will make around half of the math part simpler and quicker to solve. Consider how much time you would save if you are used to using a calculator rather than solving math problems manually.
Even though SAT can be taken without a calculator, using one for months of preparation on the test day has its perks. It will give you the best shot of finishing on time and that too with good grades.
Which calculators are acceptable for SAT?
The SAT calculator policy enables students to make use of calculators for specific test sections. The students must bring their calculators as there is a strict no-sharing policy. The SAT permits the use of any scientific calculator, a few graphing calculators, and all four-function calculators although they are not highly recommended.
Generally speaking, SAT-approved calculators must meet certain requirements, the most important of which is that they operate on batteries and are handheld.
Which calculators are unacceptable for SAT?
According to the SAT calculator policy, calculators consisting of power connections are not permitted. Calculators with computer-style keyboards, stylus, or touch screens are also not allowed.
Among other features, not permitted include cellular services, cameras, or any other audio/video recording function. You may not substitute a calculator with modern-day gadgets such as a laptop, tablet, smartphone, or even a smartwatch.
Conclusion
Texas Instruments and Casio are the two main companies that dominate the SAT calculator industry. Both of these brands manufacture excellent calculators for graphing and fundamental mathematical computations. Based on your budget and needs, you'll find the best calculator for SAT from either of these companies.
Make sure to use your study calculator on your test day as well. You'll be comfortable with how it operates, and it will be a helper rather than a stumbling block. With the right calculator beside you, you will nail your SAT.
For more information about calculators visit other blog posts on our website.