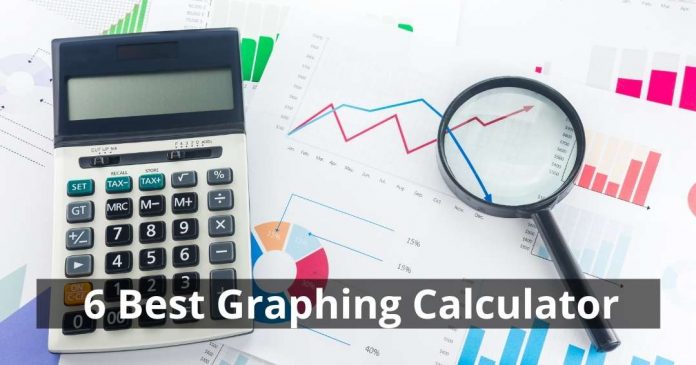 Stressed about solving your complicated math equations and problems? Well, a graphing calculator is all that you need. From addressing questions on algebra to stats and trigonometry, there is no easier or more efficient way of solving all your math queries.
Finding the best graphing calculator in 2021 for students as well as professionals can be a challenging task.
Although graphing calculator gives the first impression of being a complex mathematical device, it serves the same primary purpose as a conventional scientific calculator; to promptly solve mathematical questions.
They are unique in the aspect that they help you visualize your data by plotting graphs, finding intersections, and solving simultaneous equations among many other features.
A plethora of buttons provides a variety of operations, and you may launch applications or apps to accomplish specific types of complex computations. It's essentially a small computer that fits in the palm of your hand.
From selecting the crucial features required to cost analysis, purchasing the one that fits all your needs can be an overwhelming decision.
Fortunately, that's where we step in. We want to assist you in getting the best graphing calculator in 2021 for your needs. Whether you're looking at more traditional or modern upgraded ones, we have got you under-covered.
Graphing Calculator Considerations
Texas Instruments and Casio are the two main companies that lead the market by manufacturing the best graphing calculator in 2021.
Although choosing between the two manufacturers is necessary to make a purchase, but don't assume that your selections are restricted.
Both the firms offer a range of graphing calculators with a variety of functions and features to suit the needs and requirements of every individual.
After scrutiny, we have narrowed down the most critical features to look for in the best graphing calculator for engineers and students.
User-Friendliness
Based on usability and practicality, you want the best calculator that does not need a Ph.D. for operating. A simple keyboard coupled with prompt access to key functions is the most important quality to look out for.
Display
When it comes to selection, the display is equally important as usability. It is vital to think about the size and clarity of the calculator's screen. Some have colored displays while others have the conventional black and white ones.
Nothing is more bothersome than a calculator screen that ruins your eyesight and ultimately your grades. Moreover, resolution steps in even before the screen size. Choose a resolution that will make any screen size look vibrant and high definition.
You won' have to waste time or risk your eyesight from squinting. A low-resolution calculator begins to get rough on the eyes if used for long work hours.
Most advanced graphing calculators now come with more modern features such as 3D graphics and even real-time graphics.
Customizability
It is a major plus point to be able to upgrade, modify, or customize your graphing calculator as per your needs. It's not as critical a feature, but it's close and totally up to you.
Being able to download and play video games is a feature no one would mind. At most, you can configure your graphing calculator to solve ridiculously difficult math questions. It will all be at the touch of a button once you are used to it.
Related Post: Best Graphing Calculator for Engineers
Battery Life
Every graphing calculator comes with its own unique battery life. Select the one that can go through the longest assignments and does not die now and then.
Some types of graphing calculators can be charged by connecting to the power supply directly or through a USB port connecting to other devices. Apart from this, many rely on AAA batteries or rechargeable batteries to work.
Memory
Recalling formulas, and other data from past solutions could be extremely useful. Here is when a memory feature steps in and takes the lead among other features.
Speed
You would not like to wait many seconds for the graph or your answer to load. It will just make you anxious, building up the pressure. That is why you would want a fast calculator, popping up your answers in the nick of seconds!
Price
The best graphing calculator does not need to be an expensive one. As long as it fulfills the tasks you require doe your work, you are good to go.
Nevertheless, if you are plan on using it for a long time without any interruption, investing in a more modern and costly calculator is worth the investment. It will save you from the hustle of replacing a cheaper model yearly.
Reviews on the Best Graphing Calculator
Here are the 6 best graphing calculators in 2021 that you wouldn't want to miss out on.
TI-84 Plus CE is an all-in-one calculator, with a sleek design yet a powerful processor. It is more like a mini-computer you can carry in your pocket.
The calculator is rechargeable, implying that you will have to plug it into a socket to fully charge the battery. Color changes are simple and super fun with just a few buttons pressed.
Aside from that, it has a large ram, being the cherry on the top. Everything loads faster thanks to the enhanced processing and pre-installed images. You simply don't have to wait for graphs or solutions to show.
Key Features
TI-84 Plus CE has a high deficiency, colored enhanced display.
It is stylish yet easy to navigate and use.
It has a significant amount of memory and storage.
Available in an array of sophisticated and funky colors.
Casio fx-9750GII is a hands-down go-to graphing calculator. It is a high-speed sophisticated calculator that is perfect for algebra, stats, or even trigonometry.
It has built-in quick features to perform multiple functions swiftly and accurately. This Casio graphing calculator is the most affordable for such type of technology based on the numerous testimonials.
Key Features
Display constitutes a high-resolution LCD.
It has a USB connectivity port to link it to computers or projectors.
High-speed CPU yet accurate results.
This graphing calculator comes in a color screen with a screen resolution of 125 DPI. It comprises a TI-Inspire CX student software that upgrades the calculator.
It helps to solve and simplify mathematical algebraic expressions. Problems are almost promptly solved.
Because it works differently than other TI calculators, there is a slight learning curve, but it is significantly faster and more powerful. Even some elementary differential equations will be easier to solve with this latest edition.
Key Features
The screen size is 320 x 240 pixels.
Includes a rechargeable battery.
The calculator is easy to hold and portable.
It contains prompt alpha keys to operate.
It has 6 different styles of graphs that come in 15 unique colors.
Casio PRIZM FX-G50 comes with upgraded catalog functions. This allows for better engagement and easier application. It is an easy-to-use calculator with a 3-dimensional graphing capability.
Having the picture plot technology enables real-life images to be displayed on the screen. Concerning hardware, FX-CG50 comes with a high processor speed and a widescreen space.
Moreover, there are in-built conic sections that set apart this calculator. In short, it is a comprehensive graphing calculator with all the necessary features.
Key Features
PRIZM FX-CG50 is a color graphing calculator by Casio.
It comes in advanced picture plot technology.
Comparatively lower battery consumption.
TI-89 is an amazing graphing calculator capable of handling all mathematical problems related to calculus, algebra, stats, and even matrices.
Backed with a display for split-screen views, this calculator is compatible with various systems to enable the collection and analysis of various data.
The USB port makes it the perfect example of on-the-go technology for sharing files with other calculators and connecting them with computer systems. Simply put, it allows us to explore and manipulate mathematical data in a symbolic way.
Key Features
The RAM is 188 KB giving the calculator its speed.
Plenty of storage owing to the 2.7 MB flash memory.
Comes with a wide 100 x 160 pixels screen.
A USB port is available for data sharing.
HP prime graphing calculator comes in a sleek and stylish design. It is impeccable not just in looks but also in its performance.
The freeform input makes it all the way better. Compared to other calculators, although not cheap yet contains an array of helpful features.
Key Features
Sleek and slim calculator with a great performance.
Comes with a slide-on cover for optimum protection.
It contains an HP alphanumeric keypad and a touch screen.
Comes with a rechargeable lithium-ion battery.
FAQ's Related to Topic
What is a graphing calculator?
A graphing calculator is a type of calculator that consists of all fundamental mathematical capabilities of a standard calculator. What makes it stand different is that it has a display screen for plotting graphs and solving complex mathematical equations.
From classrooms to engineering and architectural facilities, these can be used in an array of domains for assisting in problem-solving.
Are graphing calculators expensive?
For starters, graphing calculators may come about as an expensive purchase but in the long run, they are worth the investment. Although they look like standard calculators, the advanced features set the price bar a little higher; ranging from $75 to $200.
It is worth mentioning that due to an ever-present demand in schools, colleges, and even standardized tests, a higher price is usually charged for it is a necessity.
Is Texas Instrument better than Casio?
Texas Instruments is an American-based company while Casio is a Japanese-based company. Both are leading manufactures in the field of producing much-needed graphing calculators.
TI takes the lead in the market because of its advanced features and ease of use. This brand is well-known and hence recommended by teachers as well as professionals.
In the end, choosing which brand you should select is solely based on your personal preference and need.
Conclusion
When it comes to purchasing the best graphing calculator in 2021, there are abundant options available in the market and online. Selecting the ideal one is a difficult undertaking.
It is essential to invest in a good quality calculator that will last in the long run. All of the calculators mentioned above are useful not just for academic purposes, but also for research and development.
For every mathematician, the optimum option should be the most user-friendly combination of functions and features. We suggest you make your decision based on your budget as well as your needs.
For more information visit our website.