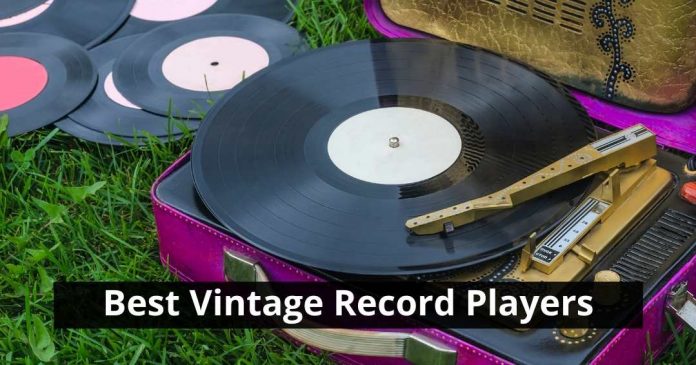 If you are one of those who love to collect antiques that include old record players and records then you are at the right place. You also know that these old models are really fun to play with.
However, their biggest turn-off is that it can never come even close to the sound that the modern time of turntable gives.
But as time is passing, the record player now has a new level of popularity. Now manufacturers are wise and they have a great solution to this music issue.
The solution is that they produced the best vintage record players with modern technology to make people enjoy music with the same feel.
This music unit seems like vintage old-time models but from its inside, they are loaded with all the modern technology you need popping out music around you.
These models are not just perfect in looks of giving vintage and old vibes, but they have all the powerful motors, top quality cartridges, perfect quality tonearms and needles, a three-speed design, and all other great extras alongside a built-in CD player.
The Modern Empowerment Over Classic
Back in the 1950s, the vinyl newly arrived and it was the biggest attraction all over the town. But as the CDs step into the scenario, soon everyone forgot about the vinyl records. This shows that vinyl has quite a brief moment in the spotlight.
But as the excitement of streaming music begins to come down, vinyl pops up again and all praise is for the loyal audiophiles who still appreciate the classic and unique sound and music.
Keeping the digital music aside, vinyl surely gives the best sound quality with good value. Moreover, the fact is that the more money you will invest the better you can get the home sound system for you.
It is simply possible because there is no sonic limit to analog. But surely the classic vinyl music system does not feature some of the modern amenities. Still, the vintage-style record players provide the user with the best experience from both of the worlds.
These types of record players have beautiful old-school wooden cabinetry from the outside and on their inside, they equip all the latest audio technology.
Some of these kinds of record players are packed in a classic style suitcase that belongs to the fifties or sixties and some others have the look of antique Victrolas.
Related Post: How Does the Record Player Work?
Characteristics You Should Consider While Buying a Vintage Record Player
Whatever style you choose for your new record player besides the attractive aesthetics blending in your décor, you just need to pay attention to the following characteristics that majorly impact the sound quality of your record player.
Compatibility
You need to make sure that the vintage record player you are getting if it is compatible with the rest of your audio system. For sure you need to make any of your new components to be compatible with the old ones you already have.
If you are beginning to put an audio system then most probably you need to get some other components like a speaker, an amplifier, or such other things. You need to assure that whatever you buy is compatible or your new things will be paid to you.
RCA
Your turntable should have separate plugs of RCA cables. You may also saw these are the common and known white red, yellow, and sometimes blue in color cables mostly getting used for audio equipment.
USB
You can find some of the vintage record players with USB ports. It is great to increase its usability and versatility. USB enables you to hook up other electronic devices like your PC and smartphone.
In fact, some of the USB connection allows you to connect portable speakers too.
Bluetooth Connection
Actually, a Bluetooth connection makes it is quite easier for you to use your record player. However, it is not a must-have feature. Its biggest benefit is that it decreases the number of cords you are using.
Headphone Jack
It is another luxe feature that you can have if you are the one who likes to listen to music late at night or early in the morning.
Power Options
The turntable you are getting should be connected to an outlet always or has a battery-powered option. Certain modern models have both power options. However, the power to run on battery makes your record player portable
Type of Cartridge and Quality
You need to check if your turntable uses the moving magnetic cartridges or the ceramic ones.
The cartridge of your turntable is one of the critical components as it translates the vibration from the needles in the grooves of a record into electronic signals. Then, these signals get sent via the wires to the output and the speaker for final sound generation.
The quality of cartridges is the biggest thing mostly audiophiles look into while deciding to purchase a model. Cartridges made from ceramic are the standard and they are actually given natural amplification ruggedness and abilities.
However, cartridges of magnetic types or more popular options as they provide better sound quality.
Direct or Belt
The belt-driven record player has elastic belts and a lot of bearing sets. Alongside, it has an offset motor that drives the rotation of the turntable.
The belt-driven record players give better sound quality with minimal interference. However, this kind provides less torque and speed control that has less accuracy. Also, it should get replaced often.
On the other hand, a direct drive has direct power from a motor that is just below the middle of the platter of the turntable. Usually, it also offers better playback speed and torque. However, the motor is liable to interfere with sound depending on the point it is placed.
Related Post: Best Record Player with Speakers
The Best Vintage Record Players Reviews
Here are the gives best vintage record players that you can buy if you have a classical taste.
This one is an elegant-looking turntable with a vintage touch that you can get at quite a reasonable price. The record player equips a simple traditional layout with a wood finish and a quality cartridge that is easy to upgrade if you are willing to get the better sound down the line.
The record player gives you a pure analog listening experience with all its premium components. It is a high-fidelity belt-driven record player that surely recreates the performance the way artists did that.
In fact, its record tracking is superior quality that lets you enjoy perfect playback with the use of balance aluminum-made S-type tonearm. This also ensures that the stylus is resting deep within the groove of the record and producing every audio detail.
The record player has a beautiful walnut finishing cabinet that is made from solid engineered wood. The cabinet equips isolation feet, a rubber slip mat, and an aluminum platter that ends up with a superior level of isolation with all unwanted vibrations.
Also, the player incorporates captivating signal clarity that is because of its high-quality built-in preamp. It equips gold player RCA line outputs that assure to make you enjoy the warm and true sound.
Key Features
This is a manual operating record player.
It is a belt-driven design.
The player comes with a preamp.
The device features 33 and 45 RPM speeds.
This is another fancy but with a classic vintage touch-looking turntable that you can go for. It is a DJ-style record player that is quite popular and high quality for the price it is available for.
It assures to give you a look and feel of a pro DJ turntable that is getting used all over the world for decades. It is really famous and has all the features that you can ever dream about.
The audio technician enables you to experience the vinyl sound of high fidelity. It is a direct-driven record player with a DC servo motor that enables you to select the speeds from 33/45/78 RPM.
It is a wholly manual operational record player that has anti-skate control that is even adjustable. Also, it features variable pitch control with a quartz speed lock and an S-shaped tonearm that is balanced with hydraulic damp lift control.
The player allows you to convert the vinyl records into digital audio files by simply downloading and using the device-compatible software.
Key Features
A completely manually operational record player.
It is a belt-driven device.
It comes with a preamp.
It has two-speed choices 33 and 45 RPM.
The record player has a high-quality cartridge.
This record player by Victrola is a super flexible all-in-one system paired with a turntable. On a complete note, it is an entertainment hub that offers retro vibes of old times.
You will get this record player with a detachable dust cover, USB Type-B to Type-A cable allowing you to connect to your PC or MAC easily.
The box of this record player has CD alongside a conversion software and user manual for those who do not know its functioning.
The cabinet of the Victrola record player is similar to the mini-size jukebox that resembles the time of the 50s. The player has shiny plastic finishing and there are four different colors.
The top panel is all set for the turntable. The right side has the headphone output. Most of the controls and speakers are on the front panel and the middle part has playback and input selectors.
The initial installation of the plyer is pretty simple you can get it done in a few minutes without any requirement of tools. It is a belt-driven turntable that gives you 33/45/78 RPM speed and the package especially includes a 45 RPM adapter.
Apart from its simple recording and music abilities, it allows you to play CDs, listening to AM/FM radio, connection to an analog cable audio source with the use of an AUX cable. In fact, it also allows you music streaming wireless with Bluetooth.
Related Post: How to Clean Vinyl Records?
Key Features
This record player is quite versatile.
It is an all-in-one stereo system.
The device gives retro vibes.
It equips a lot of orts.
It offers you a CD option with conversion software too.
This is one of the best classic and clean-looking record players from the manufacturer Audio Technica. It has a design that assures to give you the optimum level of high fidelity audio reproduction from the vinyl. You will get your record player with a carbon-fore tonearm and a high-quality cartridge.
This is a vintage purist turntable so this makes it clear that it does not have a lot of fancy features apart from its built-in switchable phone preamp. It is an ideal choice for the ones who want both sound and look perfect.
Audio Technica is a leader in the design of phone cartridges for more than 50 years and you can easily check this on their versatile high performing cartridge that comes with an elliptical stylus.
Key Features
It is a manual functioning record player.
It is belt-driven.
It is the perfect preamp.
It offers you 33 and 45 RPM speeds.
The record player has a precision style-perfect cartridge.
This is the better version of the one Fluance record player mentioned above. It has better sounding Ortofon 2M blue cartridge and an acrylic platter of high quality.
Actually, it is a very high value for the casual vinyl spinner. The record player gives you high-fidelity sound with the same elegant look with amazing vintage vibes.
The Fluance RT85 is the best record player for critical music listeners and passionate enthusiasts for vinyl. However, its only downside is that it does not have a built-in preamp. You will get pure analog performance via this record player.
The player allows you to immerse yourself into the detailed HD sound of an elliptical cartridge that delivers an improved level of linearity, reduced distortion, and higher channel separation.
The player has speed control for precision playback because of its isolated motor that does not allow unwanted vibrations or noise.
Key Features
This is a belt-driven record player.
It has a completely manual operation.
It offers two-speed limits, 3 and 45 RPM.
It has Ortofon 2M blue cartridge
FAQ's Related to Topic
Who made the best vintage record players?
There are a lot of manufacturers offering great vintage record players like Lin, Acoustic, Victrola, technics, dual, rega, etc.
Are vintage record players good?
Yes, vintage record players are good when the point is about the price. However, the newer models have better technology that makes them great but expensive. Also, vintage and retro are not everyone's preference so it won't work for a few people.
Is it ok to clean vinyl records with alcohol?
Yes, it is completely fine to clean vinyl records with isopropyl that is an alcohol solution. However, it is only fine when the concentration of alcohol is low. The best proportion to clean vinyl is 0.5% of isopropyl and 99.5% of distilled water.
Conclusion
The best vintage record player is the only one that provides you with the sound quality you need and it would become great if it comes equipped with all the modern amenities that are quite high than just spinning your favorite vinyl. Here are some of the best vintage record players with modern features. Hope it can help you.
For more information about records, Players visit our website.