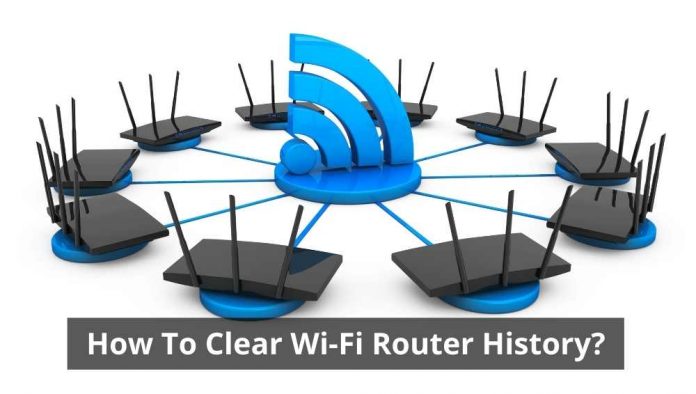 Most people don't know about this but your Wi-Fi router actually saves all the logs of the websites you visit. In fact, it just not saves your website logs, but it keeps logs saved of each of the devices connected on your Wi-Fi network alongside the ones on incognito mode.
This has a lot of privacy issues for you and demands you to take any action. One of the ways to protect your data against getting hack or something is to consider using VPN.
But the easier way to help it is by deleting your Wi-Fi router history. However, you may wonder how to clear Wi-Fi router history? So here are the steps mentioned for you to get rid of your router's history.
Step by Step Guide of Clearing Wi-fi Router History
Step 1: Find Out Your Router's IP Address
For accessing the setting of your router setting on your browser, first, you need to know the IP address. The IP address is simply an 8 digit number with dots in between i.e. 000.000.0.0.
This number is mentioned on the router's manual or you can find it out using the cmd (Command prompt) on your windows computer.
If you do not have your manual then simply type cmd on the search bar or click on CTRL+R and type cmd. There will be a window pop upon which you need to type this command; ipconfig/all, and press enter.
After that whatever will be the result, look for the value of Default Gateway. Those eight numbers are your IP address. The most common router's IP addresses are;
192.168.1.1
192.168.01
192.168.2.1
Step 2: Open Your Router's Settings
After knowing your IP address, now go to your browser and open the address bar and type its value. This will take you to the login page of router settings.
Note that each router comes with its default username and password, which is even mentioned in its manual. If you do not have the manual then simply go to the manufacturer's page to check online for the default login details for the router.
If you didn't know your router's password then try resetting it to the default. Most of the routers make use of the default username that is Admin and the password could be 1234 or password.
If this is not working then check the backside of your router and see the default user name and password printed over it. Use that to enter the username and password to have access to the settings dashboard.
Step 3: Go To System Logs
The logs of your router history are usually saved in the administrative events log or system log section of your router's dashboard. Usually, you can find this section on the navigation bar on the top side or the left side of the page. However, it depends on the brand of your router.
As you get access to the system log page, now you are open to a string of IP addresses that is for all the devices connected and the domain addresses for the visited websites.
Step 4: Clear Your Logs
Finally, you need to clear the logs that you see in the system logs. There will be a clear log button below the page. Click that and it will pop up a confirmation question that whether you want to delete the logs. Click yes, and every data will be removed.
In case if you need the log details in the future, so keeping this in mind you can copy-paste your logs to a hard drive before erasing it.
Also, if you do not want to clear all logs then you have an option to erase logs on specific devices that are connected to your router. Here are the steps to do this;
Look on the navigation bar to find out Attached devices option. Keep in mind that this option name could be different for different brands of routers.
On this page, you will find out the devices connected to your Wi-Fi. Therefore, it enables you to check the logs for all of the devices separately.
Each device will appear with its respective IP address. You need to click twice to see the logs of each device then click on the option of clear logs and erase all its history.
Keep in mind that for certain routers like Linksys, you need to make sure that the logging feature is toggled on for you to access the logs and browsing history.
Step 6: Delete Your Browsing History
Even after erasing all your Wi-Fi router history, you still need to keep in mind to delete your browser history. For this, go to your browser settings and make sure that all history is deleted. If this is not the case then erasing the router history will be of no point.
If these steps are not working for you then you need to contact for local IT expert to know how to clear the Wi-Fi router history.
Alternative Way of Clearing Wi-Fi Router History
If the above steps are not working and you still wonder how to clear your Wi-Fi history then consider this alternate way. Clearing the router's cache is the alternate for clearing your router browsing history.
The cache is that part of the router that is responsible for the storage of all setting instructions. For clearing the cache, you need to reset your whole router.
For a few router brands, following this way also deletes the router's history. Here are the steps to do it;
Take a small object just like a paperclip and hold down the reset button via that. You can find the reset button on the backside of your router.
Hold that small object until the lights of your router fade. This shows that your cache is cleared.
Can Router See Your History?
Yes, routers save the logs for storing Wi-Fi history. The Wi-Fi providers can check these logs alongside the Wi-Fi browsing history. The admins of Wi-Fi can see your browsing history, in fact, they can make use of a packet sniffer for intercepting your private data.
Is it fine to unplug your router for hours daily?
Keeping your router off for long periods is a great help to keep your internet safe and secure. Your home router unplugged means your entire home is safe from internet security threats.
How Will You Know if Your Wi-Fi Router is Bad?
Here are a few signs showing you that your Wi-Fi router is not up to the mark;
Some rooms get stronger signals and some have poor signals.
Web pages load slowly when anyone is playing Xbox pages.
The wireless signal going strong to weak without any reason.
Unable to stream Netflix outside the house.
Router not having sufficient wired ports.
Conclusion
Clearing your Wi-Fi router history wipes out all the configuration information and takes it back to its factory defaults. However, do not consider resetting your router until you clearly know the way to configure it with the record of configuration information that the admin, password, SSID, and such other details. Hopefully, this article will help you for clearing out your Wi-Fi history.
If you want to know more about Routers visit our site.