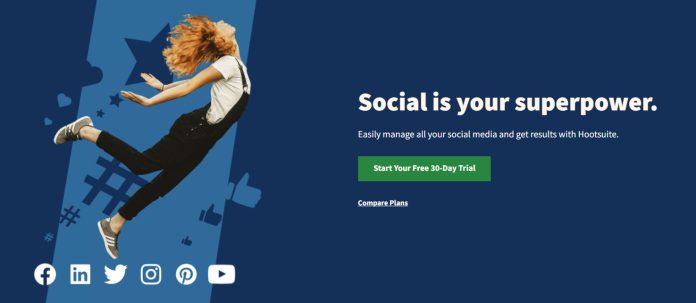 Hootsuite is one of the well-known and widely-used social media automation tools. It offers various possibilities to users. You can integrate over 20 different social media channels to your Hootsuite account and manage content for all of them from one dashboard.
Also, there is a possibility to schedule posts and messages in advance, track the performance of your campaigns, and monitor current trends.
One of the best things about Hootsuite is that you can track what followers and audience are saying about your brand. And you can also easily transform your followers into paid customers.
Here is more of the main features of Hootsuite:
Team collaboration
Save FAQ posts as drafts to post them later
Very in-detail analytics and report tab
Mobile app
Allows URL shorteners
Content suggestions
RSS integration
However, if you need very detailed analytics, Hootsuite can be expensive. Also, you cannot add your team members on a mobile app, and you cannot integrate a CRM system to your Hootsuite profile.
But don't worry. Hootsuite has many good alternatives that you can also test if you want to change your social media automation tool.
Here are some of them.
One of the Most Affordable Alternatives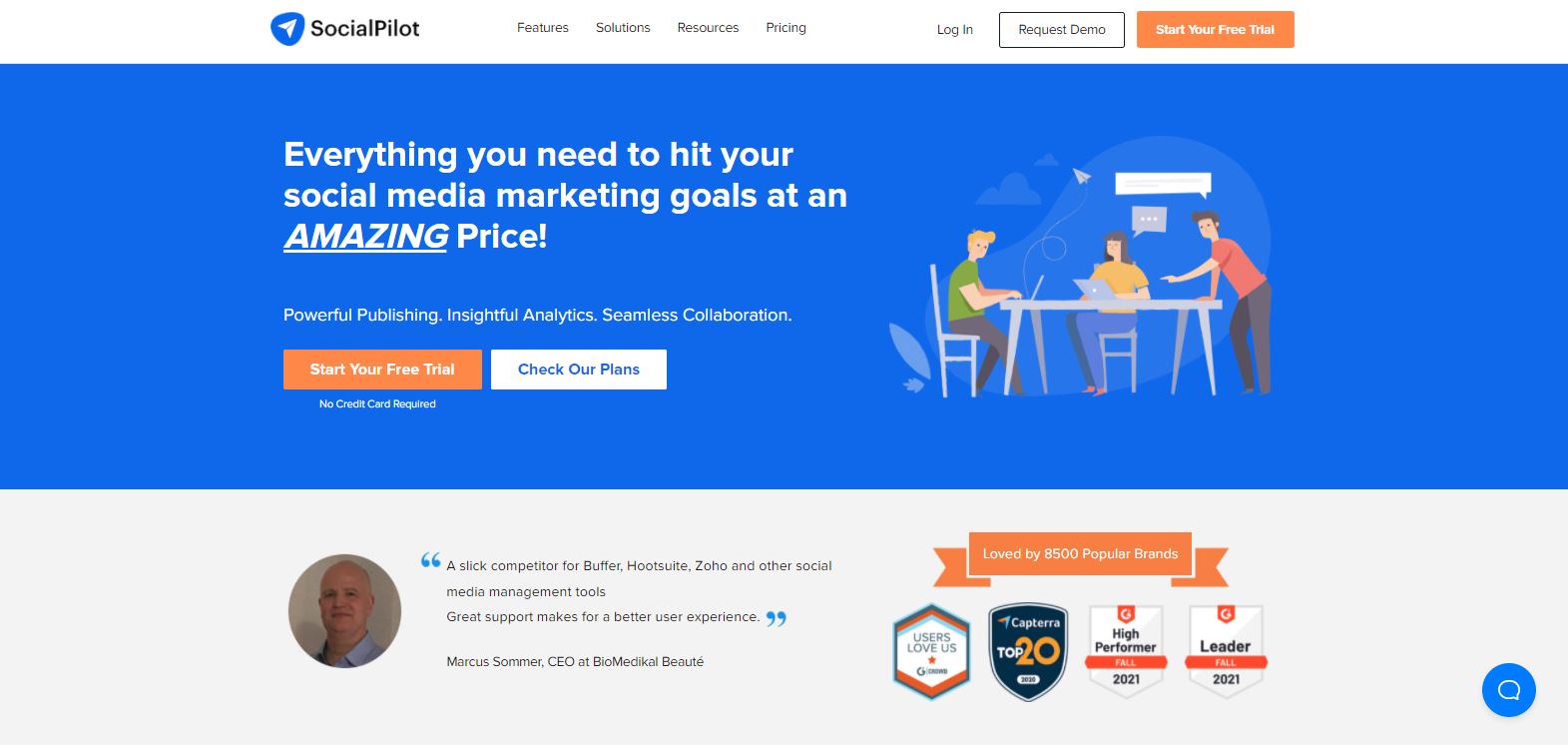 SocialPilot allows you to schedule your posts on pretty much any social media platform. You can schedule them for different times, days, and time zones.
You can also sort your posts by categories or pages and schedule them based on that. On SocialPilot, you can manage up to 50 accounts. SocialPilot has its own branding feature that can help you increase visibility on Facebook.
It is also suitable for teams because you can add contributors and moderators to your account. SocialPilot comes as a mobile app for iOs and Android and a Chrome extension.
One of the Oldest Alternatives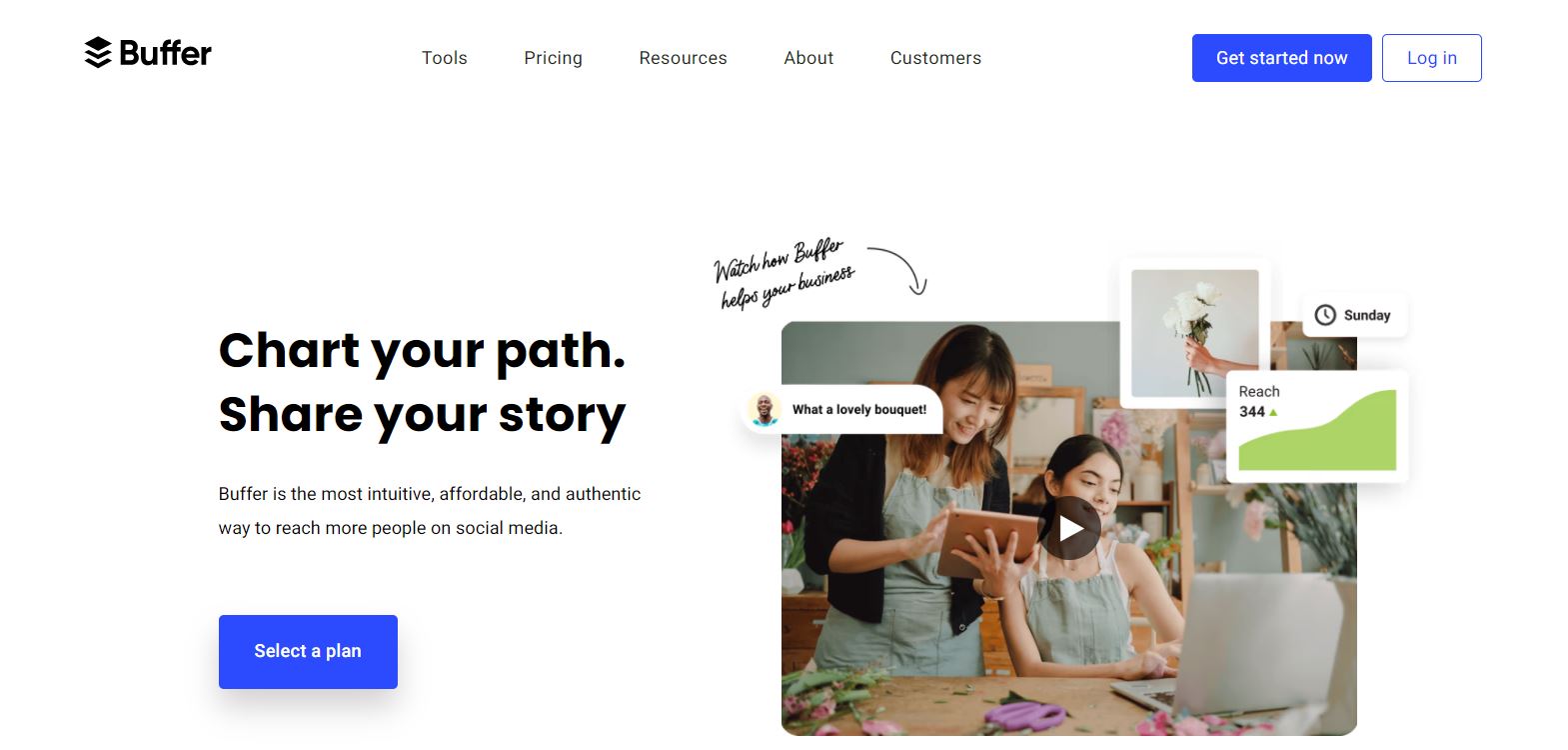 Much like Hootsuite, Buffer offers you the possibility to schedule your content on Instagram, Facebook, Twitter, LinkedIn, and Pinterest. Buffer also has a Google Chrome and WordPress extension that allows you to find relevant content and share it on social media.
The platform has a visual calendar and social inbox where you can reply to all messages and comments. This is very handy if you are managing multiple accounts, as you will be able to reply to messages and comments from one place. Much like any other tool on this list, Buffer also has an analytics tab where you can follow results and create reports.
A Great Alternative for Teams and Agencies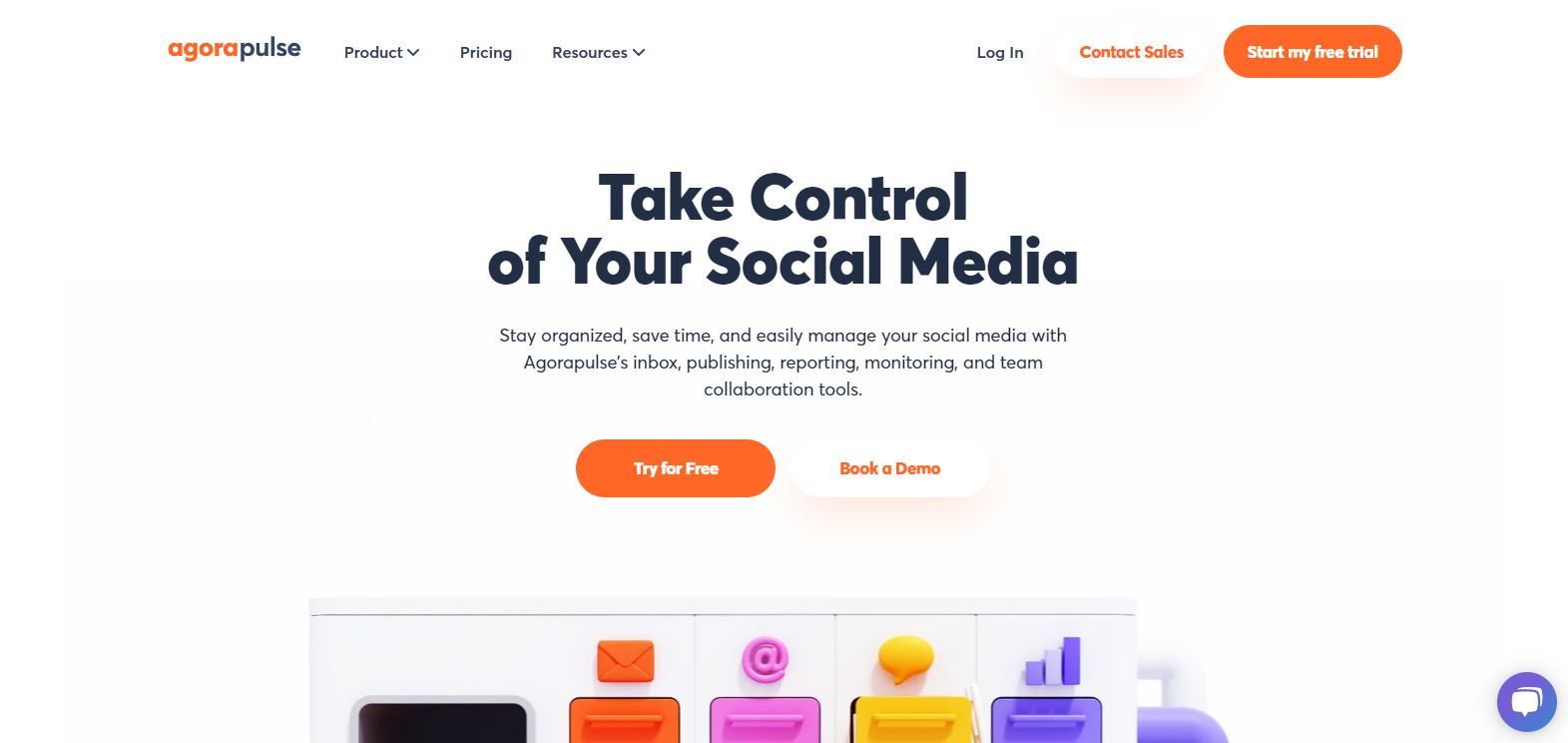 Agorapulse is an alternative for all social media management efforts that you would do on Hootsuite. On the platform, you can schedule your posts for various social media profiles, reply to comments and messages, engage with your followers and run keyword research.
The best thing about Agorapulse is the inbox assistant for tweets. This feature allows you to track hashtags and words mentioned in tweets and assign them to your team members.
Also, you can categorize your followers based on certain criteria. This can help you to find brand ambassadors or highly engaged followers easier.
One of the Most Famous Alternatives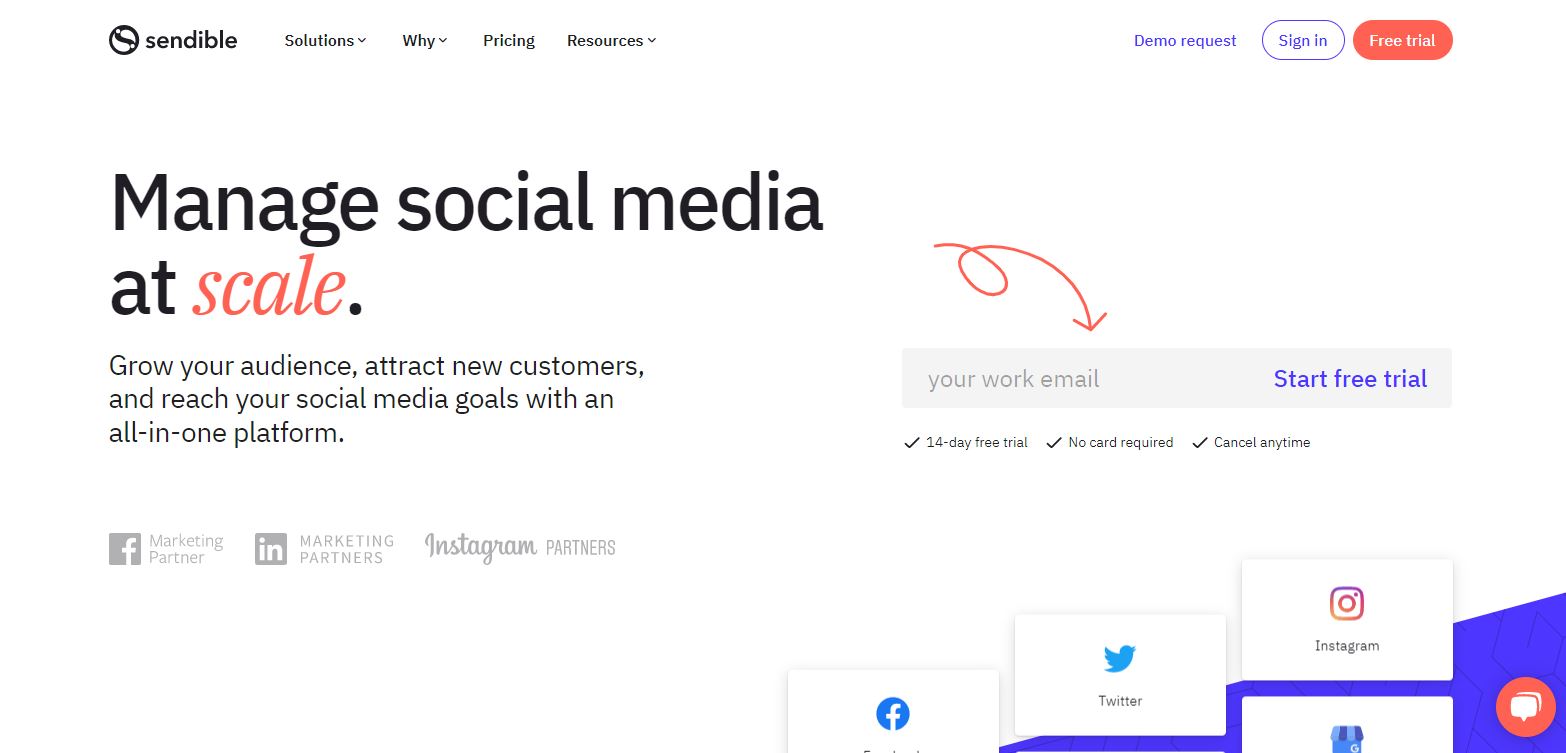 With Sendible, you can connect all your social media profiles to a platform and schedule posts. Sendible also comes with a social inbox, and it collects all messages in one place.
You also get a scheduling tool, social media calendar, content library, and RSS feeds publishing tool. Like Buffer, you can also find content from other content creators and publish it on your feeds. You can also track analytics and create reports.
Additionally, the Sendible feature tracks if someone mentions your brand on social media and stores the info in the social listening feature. And you can also add your team members and assign them updates.
Powerful Tool for Businesses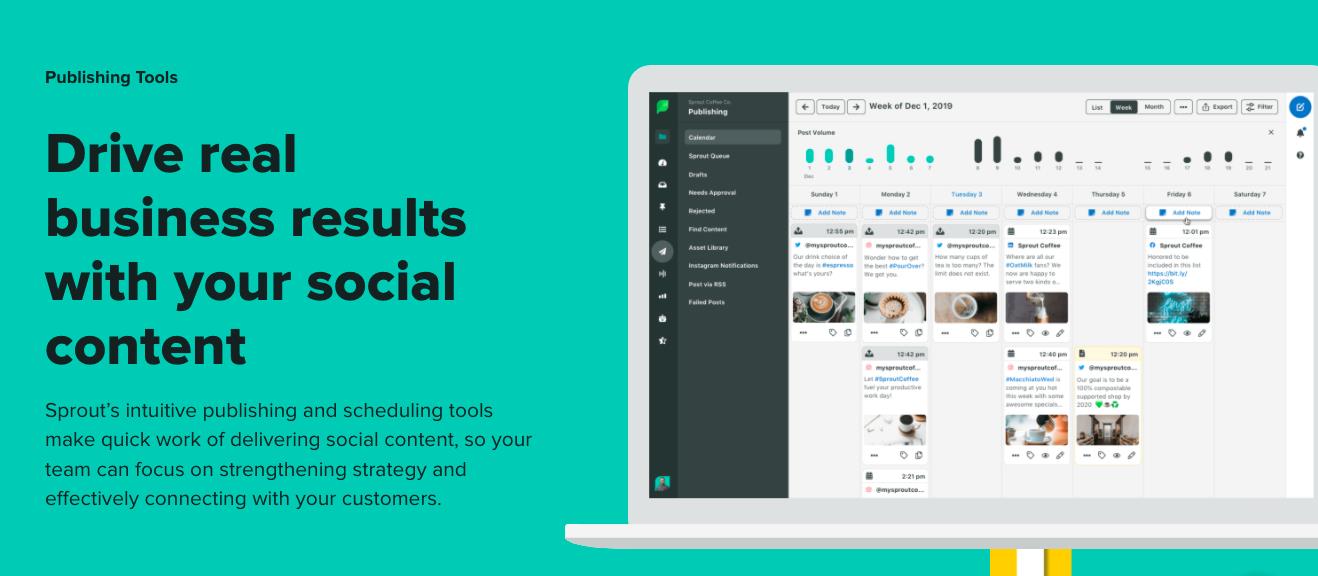 Sprout Social is an excellent alternative to Hoostuite's business and enterprise plans. On Sprout Social, you and your team members can easily track team tasks and approve content.
The platform comes with scheduling, analytics, and social inbox tools. Their reporting tools come with different features, depending on the plan you signed up to. On higher plans, you get trend analysis tools.
However, you will be able to create presentation-ready reports, no matter the plan you are on. Higher plans also offer the possibility to make chatbots and other automation tools.
Conclusion
If you want to explore some other marketing automation tools except Hootsuite, you have plenty of options.
Some of them, like SocialPilot, are powerful yet cheaper than Hootsuite. Some of them, like Buffer or Sendible, come with similar features like Hootsuite. If you want a platform to help you manage your social networks, you can choose Agora Pulse.
Everything depends on what you need and want from an automation tool.