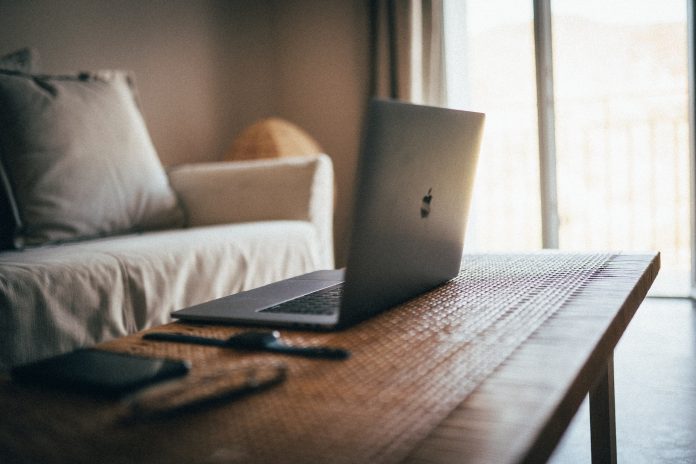 Choosing a portable monitor for your MacBook Pro laptop can be difficult especially if you want it for a specific purpose. With so many options on the market, sometimes you can get confused and not know how to make the right choice.
That's why we're here. We curated a list of the best portable monitors for every need including homework, graphic design, or editing your social media videos.
1. ASUS ROG Strix XG17AHPE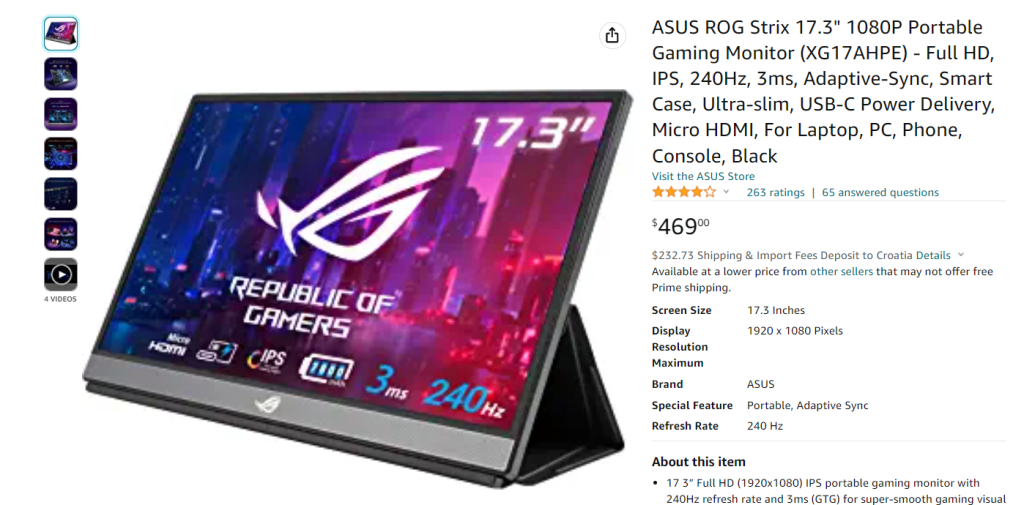 The ASUS ROG Strix XG17AHPE is our top pick due to its versatility and overall specs. It's intended primarily for gaming but is also very useful for visual artists. It has absolutely amazing response time and a 240Hz refresh rate, which in conjunction produce crystal-clear motion with almost no discernible blur behind moving objects. The input lag is also exceptionally low making it ideal for a top-notch gaming experience.
It is compatible with NVIDIA's G-SYNC and supports FreeSync variable refresh rate technology, a great monitor all around, but it is worth noting that all of those gaming features do come with a price tag to match.
2. C-Force 15.6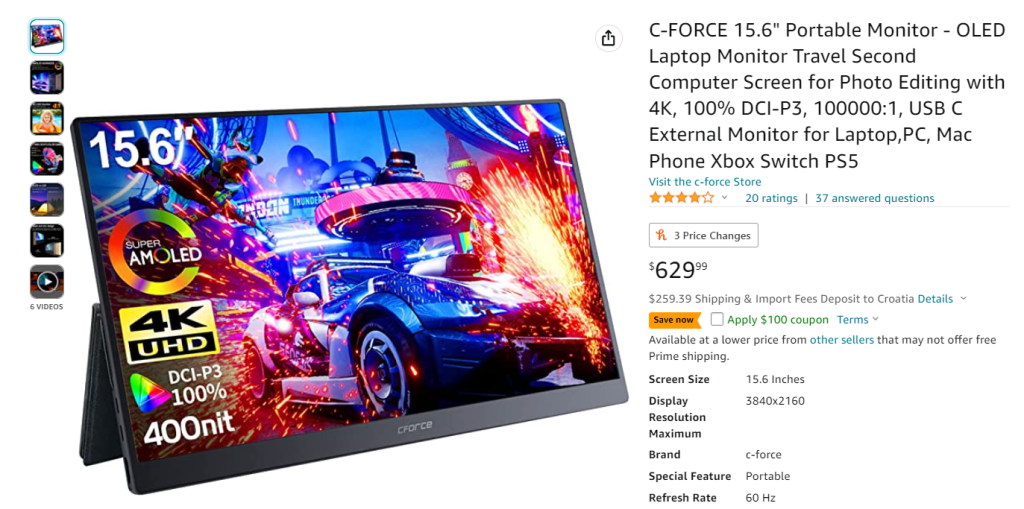 The C-Force Portable display is our second pick due to it being great value for money. Whether you're working on a daily task or playing a game, the 1080 resolution display produces brilliant colors that are more than enough for any gamer out there. It also sports dual stereo speakers embedded into the panel meaning the sound output is impressive.
It's currently priced at $179.99, which makes it a strong contender in the market. In addition to a full-year warranty, there's also a 30-day money-back guarantee in case it turns out not to be your cup of tea. The C-Force 15.6 was created specifically for the MacBook Pro, eliminating the need for an external power source.
3. FOPO 12-inch Triple Portable Monitor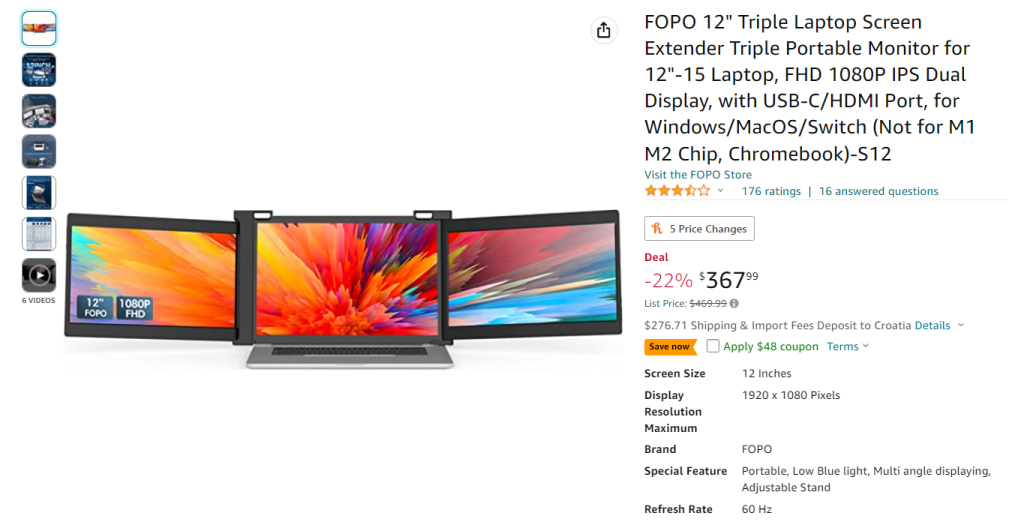 The FOPO 12-inch Triple Portable Monitor has a vertical clamp-on frame that supports two individual displays that attach to your primary monitor. All of the components, including the frame and casing, are made of sturdy aluminum, so there's no need to worry about safety.
Despite being made of metal, the way it was designed stops it from damaging your laptop. There's a foam cushion lining the interior to assure that the extra two monitors squeeze just hard enough to mount firmly without breaking your laptop, but also won't scratch it.
4. Lepow Z1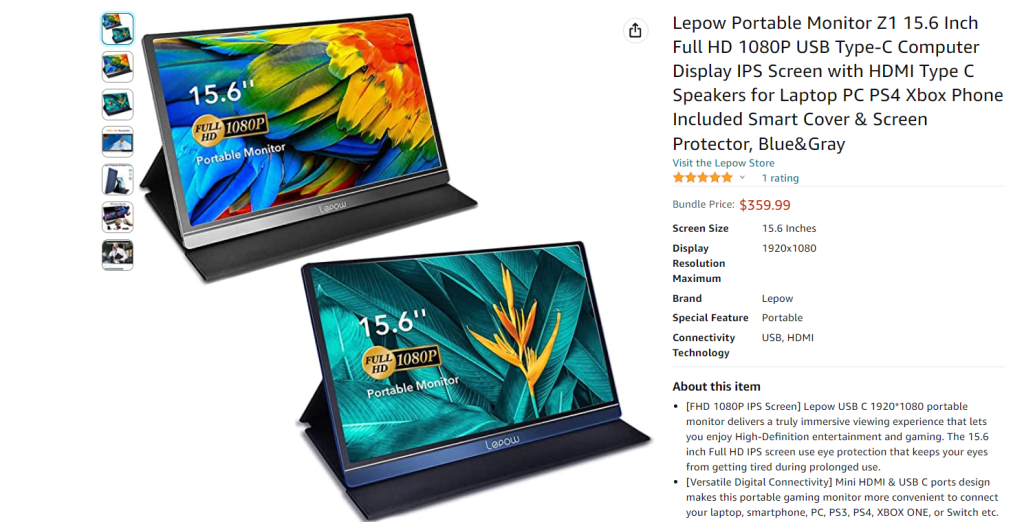 Lepow Z1 is definitely an option worth considering due to its high pixel density, and the 15-inch 1080p monitor that offers amazing text clarity. While it was not created specifically for the MacBook Pro, Lepow Z1 has some great connectivity options, including a USB-C port and a Mini HDMI port.
It's also one of the cheaper options on our list, so as much as hate to say it the colors are not really something to write home about. Still, if you need a secondary monitor for work, and you're on a budget it'll do the trick.
5. ThinkVision M14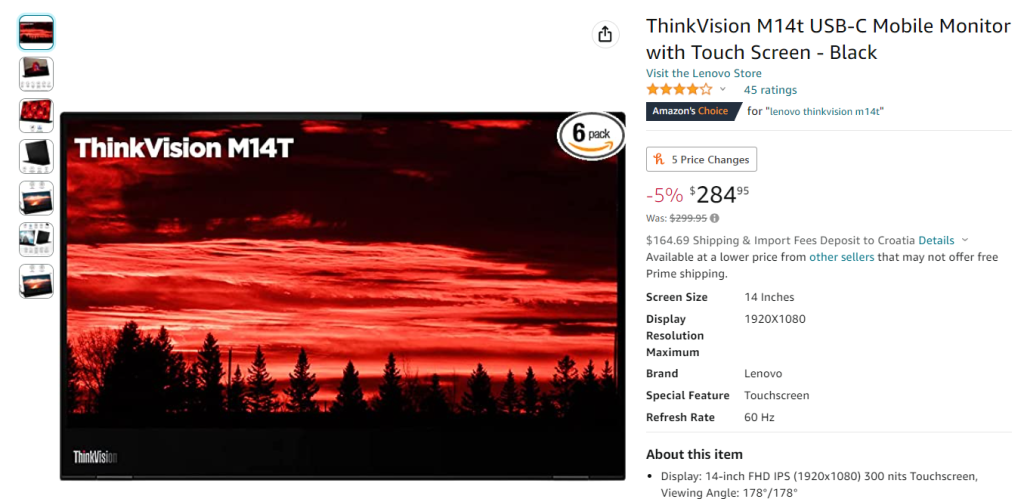 The Lenovo ThinkVision is lightweight and has a thin design, making it super portable even if you're not used to carrying a lot. If you're concerned about the resolution, a 1920 x 1080 IPS display will do just fine for a 14-inch screen. The monitor also comes with a protective covering to make sure there are no states and it's a lot harder to damage in transport.
The Lenovo ThinkVision M14 costs $225.99, which does make it a bit more expensive than some of our previous recommendations, but the features it offers more than justify the price tag.
Wrapping Up
There are so many portable monitors out there, but not all of them are compatible with Mac. And while some of our recommendations were not originally intended for Mac they can still be connected to it via a connector. No matter which monitor you choose, all from our list won't leave you wanting. Have any other recommendations or favorites? Let us know in the comment section below.