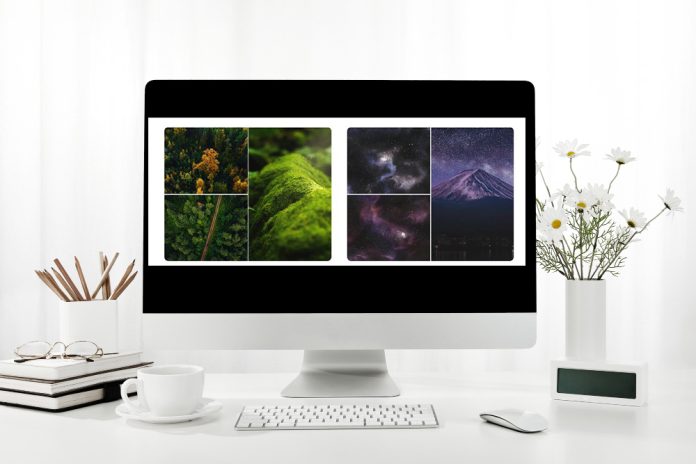 Many WordPress websites use images to try and make them more appealing and visually pleasing. Others have a message they want to convey by displaying images.
WordPress photo gallery plugins serve the purpose of displaying those images in the best and most attractive way. There are hundreds of options to choose from with many different features and aesthetics.
When choosing a gallery plugin, consider what gallery formats you are interested in, image sharing, commenting, protection, eCommerce support, animations, drag and drop builders, loading optimization, templates, etc. The following list aims to present those features and aesthetics to help you choose which one is the best fit for your purpose.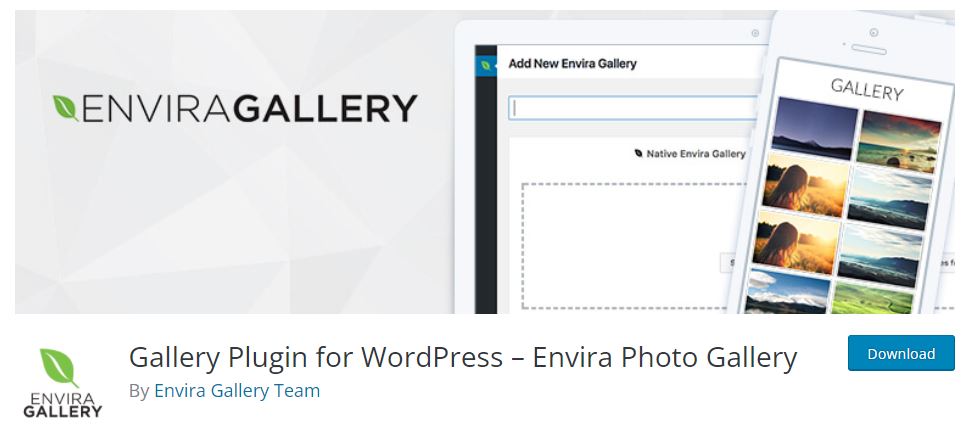 Envira Photo Gallery Lite is a drag and drop photo gallery plugin that allows for an easy, fast, and powerful photo gallery implementation on your WordPress site without any performance bottlenecks. With the gallery builder, users can create an image gallery in 5 minutes or less by adding photos, rearranging them, and creating gallery blocks, all 100% responsive and mobile-friendly.
Additionally, you can add metadata, deep links, pagination, built-in or custom templates, layouts, etc. With social media integration, image proofing, and WooCommerce integration, users can share and sell photos easily.
Other features include image compression, albums, video galleries, watermarking, Elementor page builder, image tags, password protection, CSS styles, etc.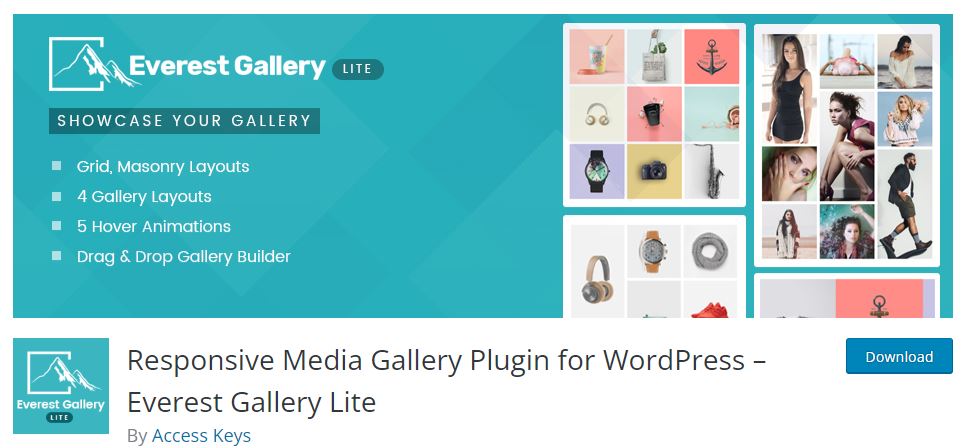 Everest is another gallery plugin that allows users to add and edit gallery items and put those items in different layouts and sub-layouts. It is easy to use and fully responsive, with no coding skills required.
There are two grid and two masonry gallery layouts available out of the box with column configuration options according to to screen size, five pre-designed hover animations, lightbox, backend preview, drag and drop ordering, etc. With a simple backend UI, editing and ordering of the gallery items are intuitive and easy to use.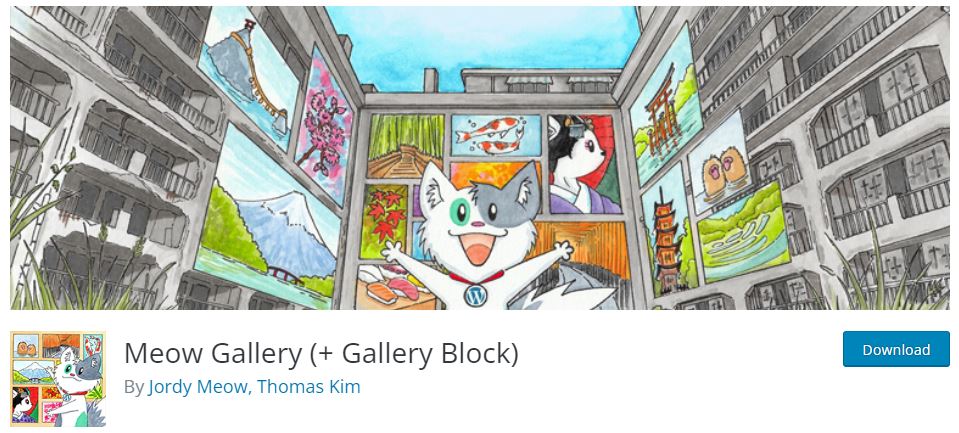 Meow Gallery is a fast and smooth gallery builder that works with Gutenberg Block and natural Gallery Shortcode. It is responsive, mobile-friendly, and with modern layouts.
The way Gutenberg Block is used allows for an easy switch back to the WordPress core rendering. Layouts, such as Tiles, Masonry, Justified, and Square, are all made by using CSS only, so no scripts slow down page performance. Natural implementation with WordPress enables maximum compatibility with other plugins, and it is also SEO-friendly.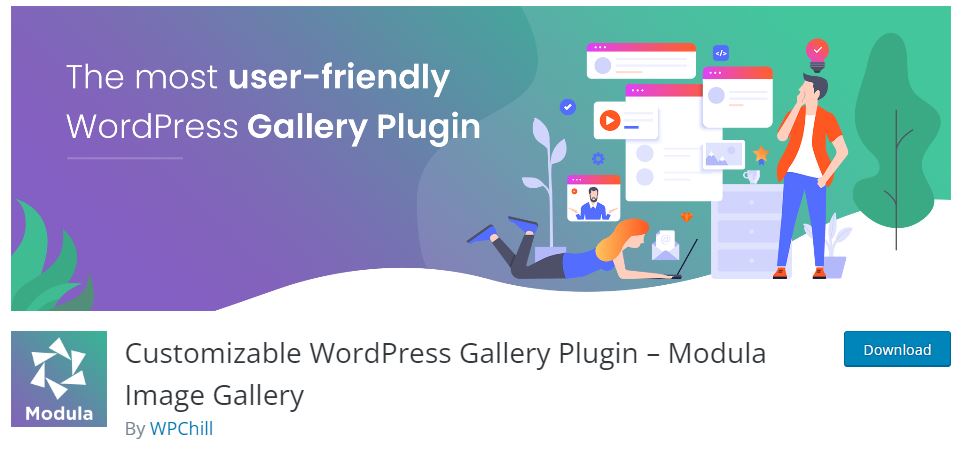 Modula is an intuitive builder that enables users to build lightbox galleries, masonry grids, and custom grids, all from the WordPress dashboard. With over 100000 active installations, it is one of the most popular gallery plugins. Modula galleries are fast-loading, responsive, and mobile-friendly.
It comes with 12 creative hover effects built-in, which is a great way to interact with and engage the audience with the gallery. All hover effects have an editable title, short description, and social icons, with effects available on mobile too.
Custom grid gives users the flexibility on how to display images on the website. This way, your gallery will not crop out images depending on the screen size. Even though it is user-friendly and easy to use, that does not mean it is basic. The design is well-thought-out, and if you do not want to customize settings, you can leave it all up to the algorithm.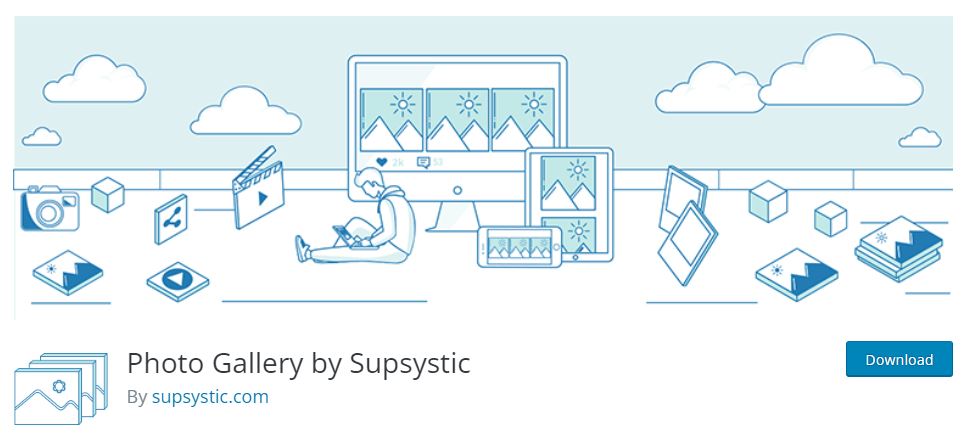 Supsystic Photo Gallery offers responsive galleries and albums for WordPress websites. There are many different gallery types, some of which are polaroid galleries, video galleries, fixed galleries, masonry galleries, mosaic galleries, a gallery with captions and icons, etc.
It comes with many useful features, including fully customizable gallery styles, SEO-friendly, mobile-friendly, lazy load, pagination, load more button, watermark, social sharing, CDN options, image compression, and optimization, add images from FTP and social media, etc.
The best part of being able to customize galleries at this level is that there are no coding skills required. This plugin is well-known and compatible with the majority of WordPress themes and plugins.
Conclusion
As with every WordPress plugin, there is not just one plugin that fits all users' needs. Above listed plugins cover most of the ground in terms of gallery plugins.
Depending on your needs and the purpose of your website and gallery, different plugins will best fit you. Many consider Modula to be the best gallery plugin, thanks to its features, layouts, templates, and diverseness.
With that in mind, consider these options, visit their websites for more information about the plugins, and armed with knowledge, choose the best option.